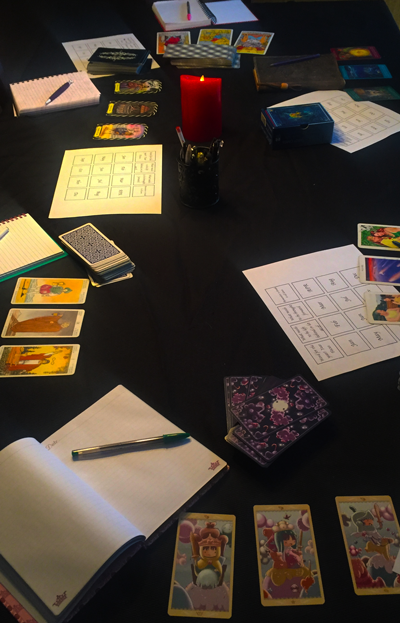 Most people think of a "Tarot Card reading" as a gypsy woman sitting at a table, candles all around, long boney fingers, conveying certain doom. I personally use tarot as a tool for going deep within and coming in contact with my higher self.   It has been an amazing adventure.  That's for sure.
In this group, we will learn about the history of Tarot, what the traditional meaning of each card is, what the card means for you personally, why it matters where a card ends up in a spread, why you do not have to be a psychic to use a Tarot deck and much, much more.
This group will be energetic, non-judgmental, sharing, caring compassionate, sometimes silly, and sometimes serious but always fun.  What this group will not be – a hierarchy, boring, judgmental or negative in any way!  If you are looking for a structured classroom setting this is not the place.  I will mentor the group, we will learn together and from each other. There will be no room for energy vampires.  These workshops are meant to empower in a fun, loving and caring way.
The workshop fee will be $20.00 per person, includes a snack and non-alcoholic beverage. You will receive a journal at your first meeting as my gift to you.
All that is required is a Tarot Deck of your choice. Loner decks will be available each workshop. There will also be a very limited amount of decks to purchase.  Feel free to contact me if you need some help deciding what deck is right for you.
Each workshop we will have a tarot discussion, an activity and reflection.
Workshops will be held each month (click here to view calendar) from 6:30 pm to 8:30 pm at 5530 17th Place, Kenosha, WI 53144. Come to all or come to one or two.  All levels of Tarot are welcome.  Beginner, intermediate or pro.  It will be fun no matter. Workshops fill up, please be sure to purchase your seat ahead of time!
Purchase your seat to reserve your spot at the workshop here.
For questions, more information please contact us.
John S.
"I have been working under Connie for some time now and there has not been a better way to learn about Tarot. Connie is a goddess that makes learning Tarot fun. She has made it so easy for me to learn not only about Tarot, but how it relates to our lives. Truly an amazing woman!"