For the past few years instead of a New Year's Resolution, I've been coming up with a Word for the Year. Words like Healing, Knowledge, Possibility and Action, I want to make sure my word's message is attainable and productive in some way.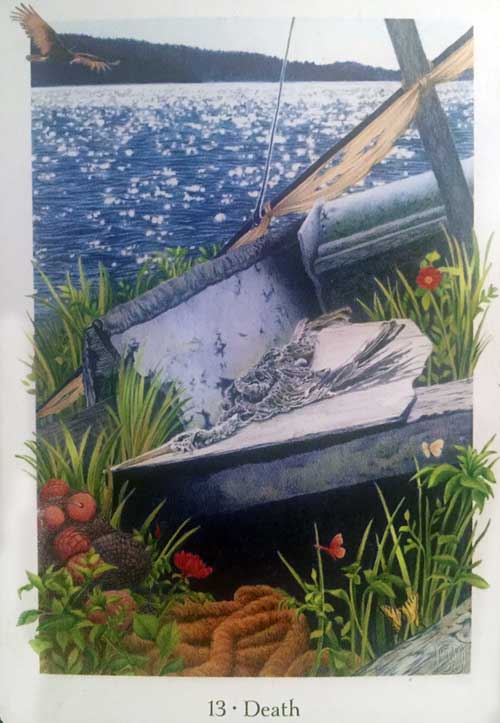 Up until now my words just sort of came to me. This year is different! No word came, no word fit, no word worked. I was getting frustrated, panicked. "OH SHIT! New Year's is here, and I don't have a word! What will I do?"
Then it dawned on me "I'm a Tarot Reader!!! DUH !!!! "So, I get out my favorite deck (Gaian Tarot Deck), I set my intent and I ask the question, "What word is it that I need to focus on this year, what word will help me to live my purpose?" I shuffle, I cut and I pull one card (78 cards and I pull …………..you guessed it didn't you) DEATH! I say out loud "DEATH!!! Really?!? DEATH!!!!"
Now mind you my husband is in the next room he hears this and thinks the 'cheese has finally slid off the cracker'!
Don't Panic! The Death card doesn't mean a physical death. It simply means transformation. "I don't want to transform! I like where I'm at for once, UGH!" So, I contemplate this for a bit – "How does transformation fit into 2017?"
Suddenly my mind is flooded with all these wonderful, awesome thoughts.
My health – Three months ago I started a TOPS (Taking Off Pounds Sensibly) Chapter in my town. I was not taking it as serious as I should – Time to BUCK UP!
My House – I can't say I'm a hoarder like you see on TV but looking around, I'm well on my way. Time to de-clutter, time to paint, time for new windows, time for some furniture and carpet.
My Business – I'm in the process of developing a new web site, new logo, lots of great ideas, time to put them into action.
So many unfinished craft projects. My goal is to get them done and delivered to the intended recipients and that's just naming a few.
None of the above are going to be easy, but they are all keeping me stressed and overwhelmed in the dark, kind of like death.
So, here's the answer:
Death = Transformation = Life!
YES! I needed the DEATH Card this year! My word for 2017 is TRANSFORMATION!!!!!!!!!!!!!! Wish me luck!
Pugs and Kisses,
Connie